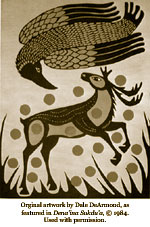 Dena'ina Key Words
A good way to develop a sense for how the various letters of the Dena'ina alphabet can be pronounced is to learn a few key words for each letter of the alphabet. A key word is a word which prominently features the sound in question. Memorizing a key word for a sound will help you to remember how that sound is pronounced. For example, the qil, meaning 'no good, bad' is a good key word for the Dena'ina letter q. This is a common word so it is easy to check the pronunciation with speakers. And it corresponds to a sound which does not occur in English.
James Kari has worked with speakers of each dialect of Dena'ina to create recordings of key words for each letter in the alphabet. The following is a set of key words for the letter in the Iliamna dialect, recorded by Walter Johnson in 2002. Each key word is repeated two times on the recording.



Annie and Walter Johnson in the early 1980s (photo by Jim Rearden)

Iliamna Dena'ina Key Words

| | |
| --- | --- |
| Letter q | Your browser does not support the HTML5 Audio element. |

| | |
| --- | --- |
| qil | no good, it's bad |
| veqen | her husband |
| quggił | snare |
| qichi | old lady |
| qeshqa | rich man, leader |
| qilan | it is, there is |
| ken quq' | tundra |
| tagheshtneq' | I'm tired |
| veqatl'na | his/her leg |
Key Words for each dialect are available from Dena'inaq' Titaztunt.
---
Materials on this site are copyrighted by the original authors, the speakers whose voices are recorded, and the Alaska Native Language Archive. Materials may be used freely for non-commercial, educational purposes as specified in the license agreement. Alaska Native Language Archive materials made available through the Dena'ina Qenaga Digital Archive may be subject to more restrictive conditions of use as specified by the original depositors.
Dena'ina Qenaga website copyright © 2004-2017. Suggestions for future development are welcome. If you have questions or comments about this site, please contact the DATA Project: denaina [dot] qenaga [at] gmail [dot] com