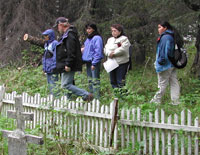 Dena'ina Topical Dictionary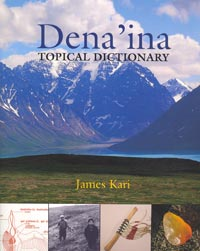 This page contains excerpts from Chapter 13 of the Dena'ina Topical Dictionary. Below are a sample of entries from two different sections of the chapter. The complete print publication can be purchased from the Alaska Native Language Center. (ANLC 2008).
Chapter 13 - Sky, Weather and Atmosphere
13.1 Sky and Stars
sky
yuq'
darkness
heł
it got dark
nughiłghatl'
horizon
yuvugh
ełnen vugh

lit. 'edge of the sky'


lit. 'edge of the earth'
moon
geljay (UI)
ghelja (OSl)
it is a full moon
q'analyun (UO)
q'anghalyun (I)
k'nudnudlet (O S&P)
lit. 'it is full grown'


northern lights
yuyqux (I)
yuyqush (OU)
sun
ni'i (O)
n'uyi (IU)
nu'uy (U)
13.2 Weather
bad weather
ch'uqughił qiz'un (I)
ch'eduqidiłt'e (U)
good weather
yaghelich' qiz'un (IO)
yaghelich' qiy'un (U)
cloud
q'es
cloud cover, overcast sky
yuq' hnalt'em
yunlay (U)
yuq' dahi (IO)
cold, cold weather; north wind
ezhi'i (I)
ezhiyi (O)
edli'i (U)
lit. 'cold one'


fog
uq (U)
nunigi
frost
shegh
shagh (U)
lightning
tsila, shila (U)
shila (OI)
delvashi (OI)
rain
kun
it is raining
ełkun
it is pouring rain
qakundenlzil (I)
qakundelyil (U)
rainbow

shabila (UI)
jabila (OU)
lit. 'sun snare'

warmth, warm weather
ebayi (OU)
eva'i (I)
13.2.1 Falling Snow, Snow Storms
snow (on ground)
chitl'
nzhah (OI)
yes
falling snow

yus
nudahi (U)
lit 'falling objects'

sleet, half rain and half snow
tlaq'
spring snow that causes last snow to melt
nzhah gelqedi (O)
nut'aq'i zhaq'a (O)
ch'enq' k'yilquni (I)
nunhdecheni (U)
k'etunuynashahi (I)
lit 'one that eats snow'
lit 'goose's spit'
lit 'that which is on the wings'

lit 'causes water to increase'
Dialect abbreviations: (I) = Inland (Nondalton, Lime Village, often Iliamna) (L) = Lime Village (Lk-I) = Kuskokwim Ingalik at Lime Village (N) = Nondalton (Il) = Iliamna (U) = Upper Cook Inlet (Tyonek, Susitna Station, Knik, Eklutna) (Su) = Susitna Staion (E) = Eklutna (T) = Talkeetna (Kn) = Knik (O) = Outer Cook Inlet (Kenai, Kustatan) (Sl) = Seldovia (+Sl) = in all dialects and confirmed for Sledovia
---
Materials on this site are copyrighted by the original authors, the speakers whose voices are recorded, and the Alaska Native Language Archive. Materials may be used freely for non-commercial, educational purposes as specified in the license agreement. Alaska Native Language Archive materials made available through the Dena'ina Qenaga Digital Archive may be subject to more restrictive conditions of use as specified by the original depositors.
Dena'ina Qenaga website copyright © 2004-2017. Suggestions for future development are welcome. If you have questions or comments about this site, please contact the DATA Project: denaina [dot] qenaga [at] gmail [dot] com