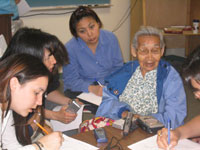 Do It Yourself!
Learn about making recordings and using software in language documentation.
This page is under construction.

On February 9, 2006, Gary Holton, Andrea Berez and Sadie Williams gave a presentation at the BMEEC (Bilingual Conference) in Fairbanks. The topic was the capture, editing, transcribing, and archiving of digital langauge audio.
Download the presentation on Using Digital Audio Resources for Language Documentation and Revitalization
Recommendations
The Max Planck Institute in Nijmegen, Netherlands has developed a set of quick-reference guides on topics ranging from workflow and archive organizaiton to fieldwork and making audio/video recordings. These handy reference guides are available as PDF files formatted for A4 paper; however, the can also be printed on US standard 8.5" x 11" paper.
Download the guides at www.mpi.nl/corpus/a4guides/
Free software tools
Other Links
Below are some useful links where you can find information on digital audio, annotation and transcriptions, archiving, and hardware and software recommendations.